Newsletter: Identify key signals in data quickly
The Qlucore Biomarker Workbench – designed for easy batch mode statistical analysis
The Biomarker workbench runs multiple statistical tests in batch mode and identifies the most interesting signals.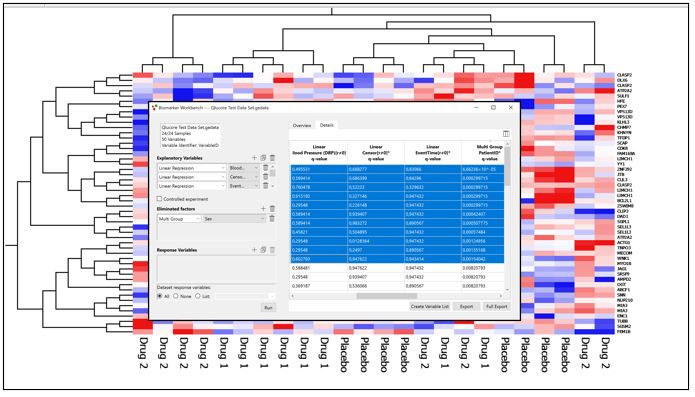 The workbench includes easy set-up of a suite of different statistical tests to run in batch mode with the objective to select effective compounds or other relevant signals. Results are presented in tables and the structured outcome can be used directly for following analysis steps using the full suite of visualizations and other tools.
For biomarker discovery use the the Response variable option. It is tailored for biomarker discovery and assists in finding correlation between sample annotations – an excellent way to focus on key annotations when working with large amounts of clinical data.
Key functionalities:
Run multiple jobs of statistical tests (in batch mode) on many annotations with different conditions
Drug candidate testing
One key press export of lists and tests for continued exploration
Large scale clinical annotation analysis by setting up Response variables
Upcoming webinar:
Title: "Biomarker workbench and statistical tests in Qlucore Omics Explorer" 
Date: May 26th, 2022 
Time: 15:00 GMT (+1)  
Click here to register for webinar.
Watch the video "Use Biomarker Workbench for advanced set up of multiple statistical tests".