Newsletter: Optimize data discovery using the new, fast and flexible Biomarker Workbench
Test your hypotheses in the most efficient way
Let us introduce you to the new Biomarker Workbench, optimized for experiments and studies in the areas of drug development and biomarker discovery. 
The Biomarker Workbench is a new way to set up a suite of different statistical tests to run in batch mode. All hypotheses of interest are processed in one run, with results presented for further selection and analysis. This method can, for instance, be used to quickly select the most effective compound from many, or identify other, relevant signals.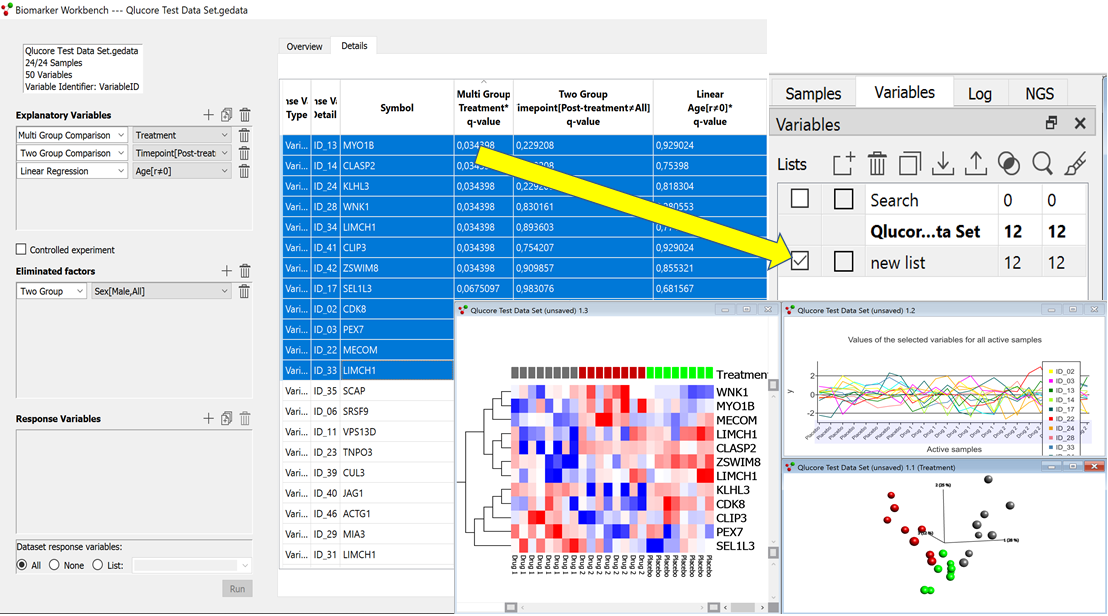 The processing is extremely fast and results are presented in interactive tables. The structured outcome can then be directly used for further analysis. Tests, such as t-test, F-test, rank and linear regression and two-way analysis, are set-up with only a few key presses and you have the freedom to set-up as many tests you would like to run.

The Response variable option is tailored for biomarker discovery and assists in identifying correlation between sample annotations. This is an excellent way to focus on key annotations when working with large amounts of clinical data.

The new Biomarker Workbench is available in the recently released Qlucore Omics Explorer 3.7. It will be presented in an upcoming webinar where we will also explain how to work with existing statistical methods with Qlucore software.
UPCOMING WEBINAR: 
"Introduction to Statistics and Biomarker workbench"
Date: May 20th, 2021
Time: 16:00 GMT (+1)     
Click here to register for webinar.
Watch a short introduction on how to use the workbench and how to easily setup statistical tests.