Qlucore Newsletter: Analyze RNA-seq data with the NGS module
NGS module gives added insights
It is well known that RNA-seq is the preferred technology for many types of studies and the number of generated samples increases quickly. The graph shows the number of found samples (thousands), in Gene Expression Omnibus, when you search for experiments including the term RNA-seq or microarray.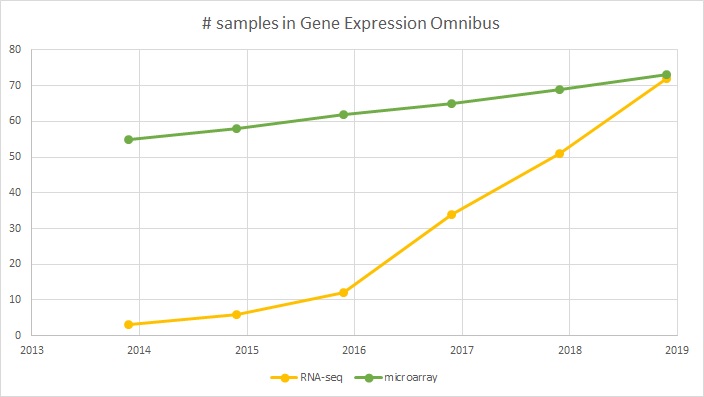 Steadily increasing RNA-seq samples in GEO
Qlucore Omics Explorer has a rich suite of functionality to assist you with analysis of RNA-seq data, starting from import and normalization of BAM files and continuing through data exploration and advanced statistical analysis to reporting in various formats. All through the workflow you are presented with dynamic and interactive plots to ensure that you as a user are in full control. Visualization can be done in many ways - it is up to you. If you need it you can use the Template functionality for pre-configured visualizations and analysis steps.
The NGS module extends the functionality of the base module and in the aspect of RNA-seq data, examples on functionality are:
genome browser with interactive tracks and support for as many samples as you want
inspection of individual reads
visualization of additional information from GTF, VCF and BED files
filters on read coverage, genomic regions, SNVs and much more
filters in the Genome browser based on expression levels and selections of genes in the base module
This suite of functionality will enable you to delve deeper with your analysis.
Learn about the NGS module here.
Watch short video Introduction to NGS module.