Qlucore Newsletter: The easy way to keep track of, visualize and report results
Rich integrated functionality for keeping track and reporting.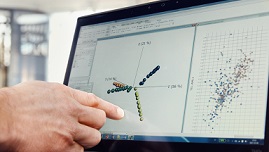 Qlucore Omics Explorer is used by scientists and analysts with different in-depth data analysis experience. It includes the functionality to make it easy to keep track of and report results. Additionally, the program supports easy workload sharing within a team.
The log functionality enables you to save your analysis at any stage (using only one key press) and then restore it at a later point. The capture includes all statistical settings, filters and plot configurations, all saved in one so called log point. A log point can be sent to a colleague and is a very fast way of sharing results and findings.
The status functionality lists all calculations that have been applied during the analysis and is available for inspection throughout the analysis process. The pdf report packages all open plots to one report with a single key press.
For you and your team the benefits are that it's easy, quick and can be used by everybody. Information can easily be shared between biologists and bioinformaticians. Only one key press and the whole analysis is compressed and stored into a log point – ready for sharing with colleagues.
UPCOMING WEBINAR:
"Store, report and share results"
September 8th, 2020
16:00 GMT (+2)
Click here to register for webinar.
To learn about Qlucore Omics Explorer right now, check out videos.