Newsletter: Simplify your GSEA analysis
With Qlucore Omics Explorer it is easy to incorporate biological information such as pathways, gene sets, cell types and other structured lists and with a few mouse-clicks analyze a data set.  
Gene set analysis is a collective name for methods aimed at statistical analysis of a collection of genes, rather than single genes.
These analyses can be performed in Qlucore Omics Explorer, using the integrated Gene Set Enrichment Analysis (GSEA) workbench. The tight integration with all other functionality in the program and optimized performance provides extensive benefits over stand-alone solutions. In addition to the data set that is being analyzed, functional content is required for a specific research question. Two open repositories with functional content are MSigDB and Reactome. For single cell data analysis, the cell type gene sets in MSigDB can be useful and used to identify the cell type of a cluster.
In the last version, 3.8, of the program we added functionality for conversion of variable identifiers. This makes it, for instance, easier to work with different identifiers such as gene symbols and Ensembl identifiers and move information between datasets, even if they are from different species.
To find out more, please visit where you can watch our short introduction video.
Join our upcoming webinar on this topic: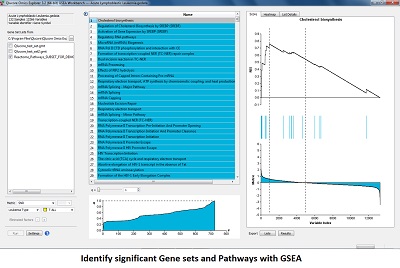 Title: "Pathway analysis with Gene Set Enrichment Analysis (GSEA)"
Date: September 1st
Time: 15:00 GMT (+2h)
You are most welcome to join our other webinars and trainings too, such as "Basic Training: Get started analyzing data", an introduction on how you can explore and analyze experiment data using a highly visual and interactive tool in a number of hands-on exercises.
Click here to register for webinar.