Heatmaps
Qlucore Omics Explorer allows you to easily generate and configure a heatmap for instant visualization of your data.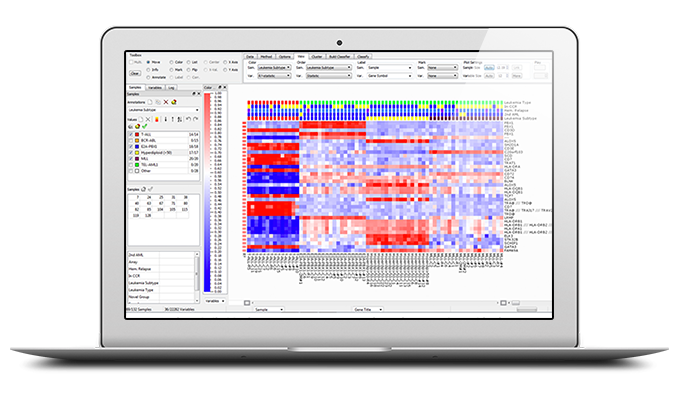 Qlucore Omics Explorer is a D.I.Y next-generation bioinformatics software for research in life science, biotech, food and plant industries, as well as academia. The powerful visualization-based data analysis tool with inbuilt powerful statistics delivers immediate results and provides instant exploration and visualization of big data.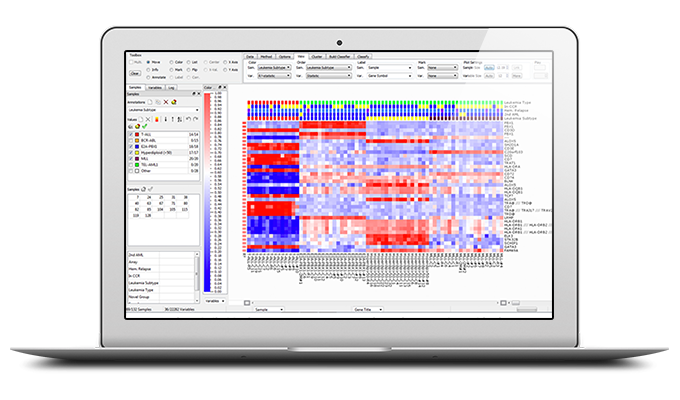 Use Heatmaps to visualize
Use Heatmap for a clear data overview and as the starting point for interaction and analysis 
Qlucore Omics Explorer is an excellent tool for creating heatmaps. The visualizations in the software are both the starting point and a possible endpoint in your data analysis work flow. Many plot types are supported, heatmaps (heatmaps or heat-maps) are only one example. You can also work with PCA, box, bar, genome browser, t-SNE and scatter and Volcano plots etc.
The heatmap is interactive and will automatically display all your active variables. Hierarchical clustering as well as several other different sorting orders can be applied in combination with extensive coloring options. 
Inspect your data using the heatmap and then start to dive into the analysis by applying the included statistical tests or using the open API to R.
Qlucore Omics Explorer works on a wide range of data types from NGS, single cell RNA-seq, RNA-seq, to proteomics. Browse the site to find references and use cases for how to work with your data.
Watch video and learn more
"How to easily generate heatmaps"
Qlucore Omics Explorer is used by scientists and corporations across the globe.
"This tool might literally save you years of your life."

Ulrich Steidl
Professor at Albert Einstein College of Medicine in New York
"For me, one of the most compelling reasons for choosing Qlucore's Omics Explorer for the Human Protein  Atlas program was its simplicity."

Professor Mathias Uhlén
Royal Institute of Technology, Sweden 
"The versatile data import and the ease of use are important benefits. Qlucore forms a key role in our research."

Dr Adam Stevens
University of Manchester, UK
Does it work on my data?
Answer the four quick questions below and find out if you can use Qlucore on your data. 
For more details about supported data formats and data import see Data Import or Contact us with questions.