Making a difference by transforming complexity into clarity
Visualization based Analytics
Our mission is to make it easier to analyze the huge amounts of complex data that are generated by innovations in the fields of genetics and proteomics.
We do this by providing powerful visualization-based bioinformatics data analysis tools for research and precision diagnostics. Tools that are so easy to use that researchers, technicians and physicians easily can interpret and explore their datasets.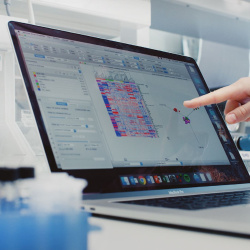 Research
Qlucore Omics Explorer is a Do-It-Yourself bioinformatics software for research in the life science, biotech, food and plant industries, as well as academia. The powerful and flexible visualization based analysis tool with built-in powerful statistics delivers results instantly.
Learn more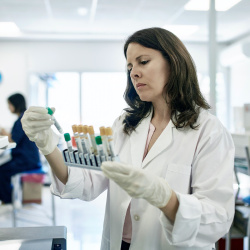 Clinical Diagnostics
Qlucore's clinical diagnostics solutions include visualization based, AI-powered, disease-specific classifier models and gene fusion support for better insights and improved diagnostics.
Learn more
Imagine this with your own data!
Qlucore Omics Explorer provides among many other analyses a very fast and efficient way to identify patterns and structure when exploring data. Try on your own by moving the slider below.
Try on your own by moving the slider above.
Qlucore software turns your experiment data into actionable results in a faster and more visual way.
Used by scientists and corporations worldwide
"With Qlucore, you can see how things are changing in real time when you set a p-value cut-off for statistical analysis. Also it's flexible, so you can run custom R scripts if required."
Elena Matsa
PhD, Cell Biologist and Ipsc specialist, Stanford University, CA, USA
"Qlucore allows me to do analysis on my own. There are things that I know are biologically relevant that I can check on the fly."
Steven Kornblau
Professor of Medicine, Md Anderson cancer Center, Houston, TX, USA
"Qlucore is a really great way to explore large data quickly."
Darragh Duffy
PhD, Immunologist, immunobiology of dendritic cells, Institut Pasteur/Inserm, France